The purchase of a new house is an exciting milestone that will change the way you and your family think of life at home. While a new luxury house in Las Vegas will already come with a certain standard of quality, there are still several projects you can undertake to make it the exact home of your dreams. Whether you're looking to upgrade your space for your enjoyment, or to better entertain family and guests, here are five projects that are sure to make your home the talk of the town.
Home Theater

What would a luxury home be without a home theater? The theater room is often a staple of not only million-dollar homes in Las Vegas but high-end real estate properties industry-wide. Theaters are a central part of the home and provide a comfortable space capable of many functions. Although practically any room can be considered a home theater provided there's a screen, ample seating, and a sound system; if you're looking for something more extravagant, there are seemingly endless possibilities for building a custom home theater.
Before you break ground on the project, there are a few things you'll want to take care of to make sure the project is completed without any hiccups. First, ensuring you have the right amount of space for the seating, screen and sound system is extremely important. Depending on the theater experience you are going for, items like seating can quickly take up a lot of square footage. Empty the room first and take measurements of every nook and cranny in the space.
After measuring, soundproofing the room with noise dampening pads is a great idea for creating the perfect theater environment. Since you will have a top-of-the-line sound system, dampening the noise so it doesn't interrupt people in other areas of the home will be important. The last thing you want to do is limit the noise on a new action movie just because you can hear it upstairs.
Another crucial step you can take as a homeowner before the actual installation of the theater system is configuring or extending your home wifi to make sure all theater components will be able to connect properly. Depending on where you put the room, you may need to add on Wi-Fi mesh extenders, or some other device to be able to stay online in your theater room.
Depending on your preferences, home theater installations can range from $2,000 to upwards of $60,000. The seating, screen, and projector are often the most important cost factors, and choosing between decent models or more state-of-the-art high-end products will greatly affect the total cost. 
Wine Cellar
Building a wine cellar is another home project that you can help get jump-started yourself. Even if you aren't an everyday wine drinker, having a sophisticated space will take your new luxury home to the next level. Perfect for wine collectors, connoisseurs, and hosts of frequent social gatherings, wine cellars are a great option for storing your stock, regardless of the quality or quantity of bottles.
As you start this project, think about the most important factors of a wine cellar. Seeing as wine is stored in a wine cellar to stay fresh, then you likely will want to start by controlling the climate of the room. Climate control is essential to a wine cellar for both the quality and longevity of the bottles you store. Improper conditions, such as temperatures too high or low, or too much variability in temperature can damage the flavor of the wine and lead to oxidation, which effectively ruins your stock. To prepare your space, make sure the area has the proper ventilation and enough access to electrical wiring for connecting all components of the climate control system. Most residential cellars use something like a through-the-wall cooling unit that is mounted in the wall of the cellar and it helps keep the wine cool but not cold.
Another area of the project that you can handle to get your wine cellar on its way, is to install the wall racks that will organize and secure your bottles. Wine racks come in all sizes and designs, but the majority can be installed on your own with the right power tools. Setting up the racks and storage space will help you visualize how the room is starting to come together.
At the low end of costs, a wine cellar installation could run you around $10,000, while the most high-end residential cellars can be well over $100,000. The average price point of a home wine cellar is just under $34,000. When planning this project, in addition to the costs mentioned above, take into account the price of the wine itself as well as any special plans you had in mind for your cellar.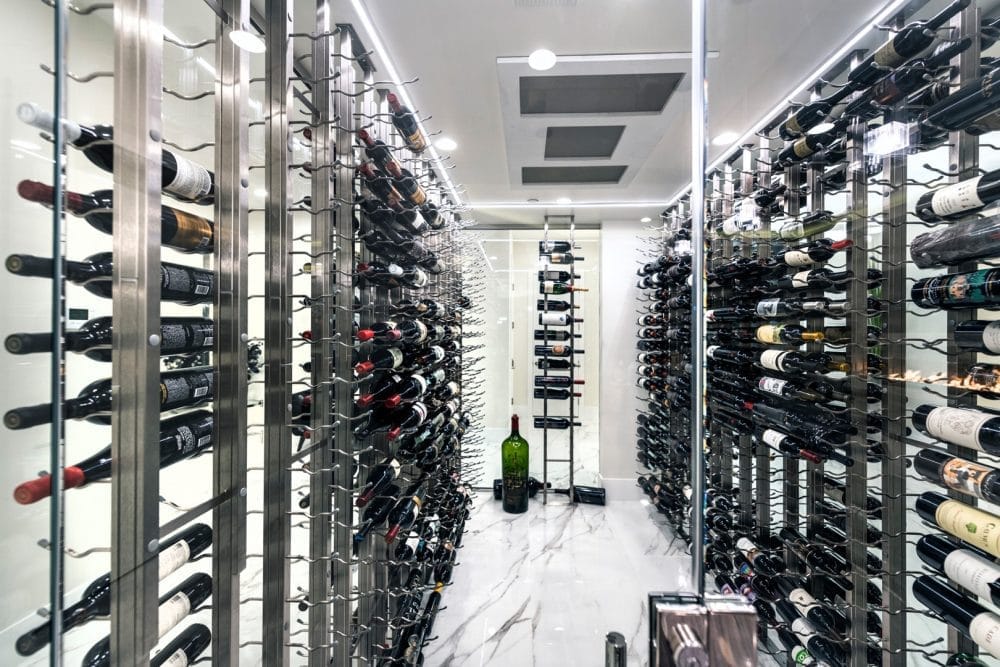 Home Saunas
In addition to or in place of a home gym, indoor saunas are a fantastic addition to a new luxury home. Coveted for their health and relaxation benefits, saunas are available in three main variations: dry, steam, and infrared. While each type has its set of pros and cons, the addition of a sauna can go a long way towards improved and prolonged health. Besides the health benefits, who doesn't want to be able to have a spa day right in their own home?
In terms of installation, what used to require the renovation of an entire room to serve as your sauna space has now been replaced by portable saunas that are modular and can be placed virtually anywhere in the home. Despite most custom sauna additions needing the help of an outside contractor, some prefabricated sauna kits make it possible to do the installation yourself, eliminating the labor costs involved. In this case, be sure to choose a properly ventilated area of your home that is capable of housing a high-temperature sauna. You'll want to place it somewhere that has ample electrical inputs close by to provide the power. On a more preferential basis, part of your installation can include external amenities such as a nearby shower, hydration station, or towel racks.
The costs of this home project can be anywhere from $1,000 to $10,000 depending on the type, materials and installation expenses that might be required if you choose to rely on an outside contractor to help with the install.
If you decide to install the sauna yourself, make sure to install a safety switch or some other shutoff device. Home sauna kits are safe but can lack the safety features that a commercial kit would have.
Indoor Wet Bar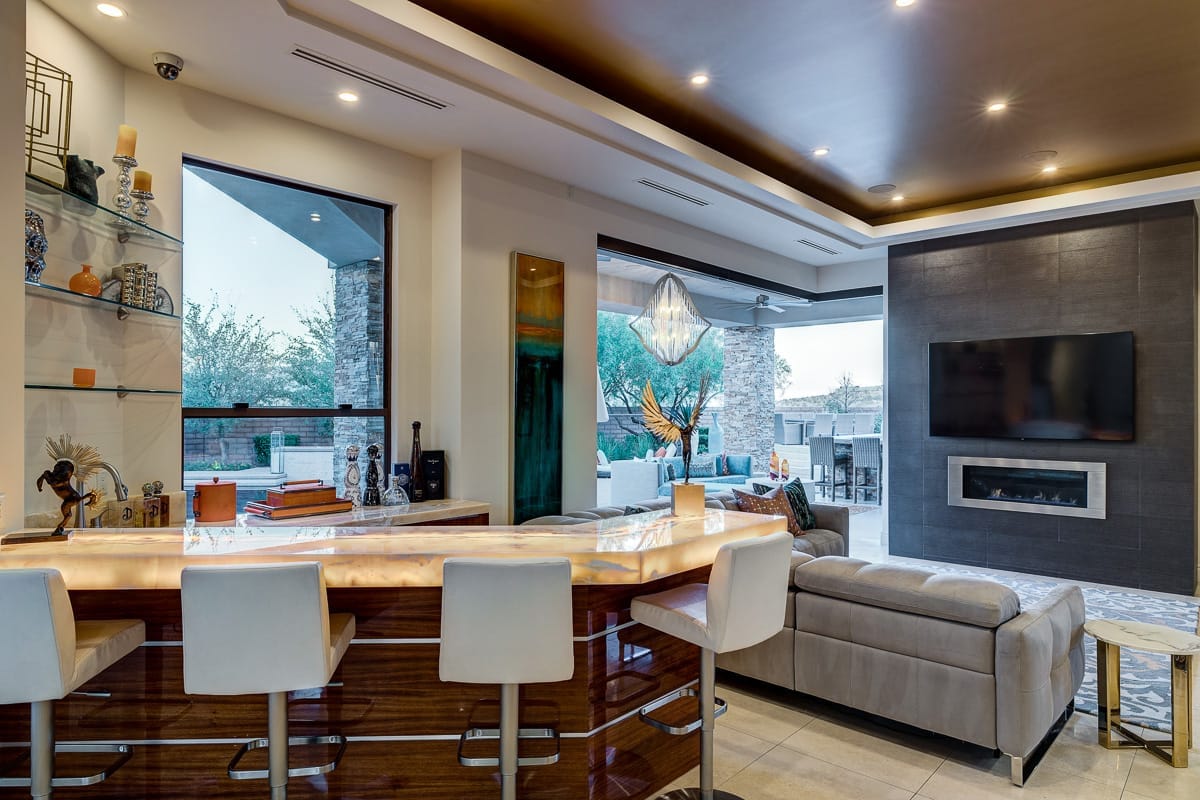 Whether your idea of a perfect night out is actually a night in or you're wanting a social space for entertaining guests, an indoor wet bar could be a nice addition to your new luxury home. Indoor bars provide a place in your home to congregate with friends and family as well as a spot to house your favorite alcohol.
When planning the construction of a home wet bar you'll want to take into account the material and size of the bar top, desired cabinet and shelf space, refrigeration capabilities and any accessories that might accompany the space; such as the televisions and memorabilia that would accessorize a sports bar. The costs associated with building a custom indoor bar can be anywhere from a few thousand dollars to upwards of $25,000 based on your budget and vision for the space. You can even upgrade your wet bar experience by installing a tap system to provide refreshing draft beer whenever you like.
If you are adding the home theater room, consider keeping the wet bar nearby for the ultimate entertaining space.
Aquarium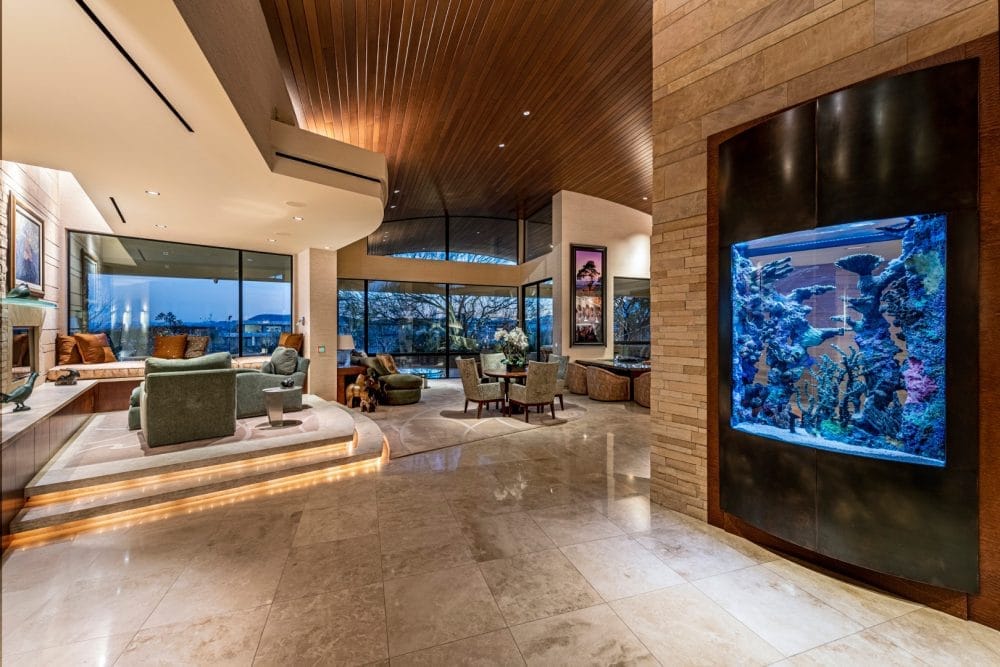 Last but certainly not least, no matter if you're a lover of aquatic life or just searching for the perfect centerpiece to complement your new home, a home aquarium is a great addition to your Las Vegas mansion. In terms of pricing for this project, the only limit to what you can install is your budget. Home aquariums vary in costs on account of the size of the tank, whether you choose fresh or saltwater, filtration systems, installation and ultimately, what types of fish and aquatic life you decide to fill the tank with. Luxury homes often demand an extravagant tank that serves as a spectacle in your home as well as a talking point when entertaining guests.
In terms of kicking off a project of this scale, you'll first want to choose your desired space carefully. It's important to note that virtually any home aquarium, especially larger tanks require frequent cleaning and maintenance on top of ensuring the fish in your aquarium are adequately fed. Be sure that it's a large enough area within a safe location of the home that's capable of housing the electrical and filtration components. Consider an area where you can keep cleaning and feeding supplies nearby, as well as one that is equipped with a water source for refilling the tank. Finally, do your research and buy the proper types of food and water treatment according to the types of fish and marine life that will fill the tank. Your aquarium may require more upkeep than the other projects on this list, but the high entertainment value provided is sure to make it worth the investment.
Regardless of which of these upscale home projects piques your interest, after the significant amount of money required for the purchase of your luxury Las Vegas home, it's crucial to consider the financial impact of undertaking such installations. If you decide you want to handle more than one DIY project at a time, it could be beneficial to look into an outside source of funding, such as a fixed-term personal loan to provide you with the necessary capital to begin whatever home project you choose. While you may have the buying power to cover the costs on your own, leaning on a loan will allow you to complete the project without taking any shortcuts or making any sacrifices. With fixed interest rates and locked-in payment terms, this option allows you to get started right away rather than having to wait until you have the cash on hand. If you decide on some of the less expensive projects, you shouldn't have to worry about outside lending and can still enhance your home at lower costs.
With all the excitement and stress that accompanies the purchase and renovation of a new home, what's most important is to make sound decisions based on your preferences and budget. Before making home upgrades for guests, first consider what you truly desire for your space, as the homeowner you're the one who will be getting the most use out of your new space so make sure it's done how you want.