The city of Las Vegas is well-known for its high-end real estate and is home to a number of wealthy communities. Las Vegas Luxury neighborhoods include some of the best and most amazing views of the surroundings and all of the contemporary features that one would anticipate finding in a luxury, five-star property. Homebuyers of every stripe and persuasion can easily locate a community that satisfies their requirements in terms of both their way of life and their financial resources. This is all thanks to the wide range of stunning custom homes and enormous available estates. In the event that you are considering relocating to Las Vegas, we've consulted Las Vegas luxury real estate professionals and compiled a list of some of the city's most opulent communities to provide you with a place to start looking. Let's have a look at luxury neighborhoods in Las Vegas!
Luxury neighborhoods in Las Vegas that your family will love
Most visitors have the misconception that Las Vegas is merely a party town, but actual families live there and enjoy it. The fact that Las Vegas is home to 68 parks and 123 playgrounds says it all. Therefore, if you're relocating to Las Vegas with your family, be sure you're making the best decision of your life.
Not only are there plenty of affluent family-friendly neighborhoods to choose from, but nowadays, you can reach Las Vegas with ease no matter where you're coming from. But before you start looking for movers and organizing your interstate move to Nevada, here are our favorite four luxury neighborhoods in Las Vegas. Who knows, one of them might become your new home soon.
#1. Summerlin
Summerlin, tucked against the stunning background of Red Rock, is the first Las Vegas neighborhood on our list. It has over 100 parks and 150 miles of walking paths, and about 30% of the land is dedicated to community space. Plus, you won't have to go 30 minutes into the city just to get a bite to eat either. You may practically get lost in the countless high-end shopping and dining options at some of the best outdoor malls in Las Vegas.
Family-friendly Summerlin is home to practically every lifestyle and some of Las Vegas's best public and private schools. There are over 24 schools in the area, including charter schools, technical magnet campuses, and religious-based learning institutes.
If your family is outdoorsy, you might as well already start looking for your luxury Las Vegas home in this neighborhood. Summerlin's Red Rock Canyon is mere minutes away and visible from almost everywhere. From its vast bike paths and camping sites, Red Rock National Park offers plenty of adventure opportunities.
#2. The Ridges
The Ridges is a neighborhood that is truly one of a kind because it's located at Summerlin's highest point. The unrivaled natural splendor of Nevada is perfectly complemented by the one-of-a-kind architectural style of the residences in The Ridges. These luxurious Las Vegas homes are custom-built and of the highest quality. It's never a bad idea to start looking for your luxurious Ridges home.
According to Forbes, this wonderful community is located in one of the top three communities in the United States. Therefore, you can rest assured that you will enjoy the conveniences that are available to you here. Having a membership at Club Ridges and playing on the championship course are just a couple of the perks of living here. The Ridges is the perfect place for you to call home if you're looking for a luxury community that features first-rate amenities.
#3. Southern Highlands
One of our favorite all-luxury neighborhoods in Las Vegas is Southern Highlands. It's a wealthy neighborhood on the southern edge of the valley at the foothills of Las Vegas. It has over 6 beautiful large parks, each having something for everyone. When you live in this luxury neighborhood, you can enjoy life to the fullest!
One of the best private golf courses in the country is right next to your house. The Southern Highlands Golf Club Course is the center of the community. You don't have to leave Southern Highlands to find great places to shop, eat, and have fun. The famous shops and restaurants on the Las Vegas Strip are only 15 minutes away. Two shopping centers with stores, services, and restaurants are right around the corner from your home in Southern Highlands. Plus, whether you want a private or public school, there are a lot of good ones in and around Southern Highlands that will challenge and inspire your kids.
#4. Canyon Gate
Canyon Gate is another one of the luxurious Las Vegas neighborhoods that's perfect if you have golf enthusiasts in your family. This community is home to bespoke properties that come with stunning views. In fact, Canyon Gate  is among the most popular luxury communities in Las Vegas.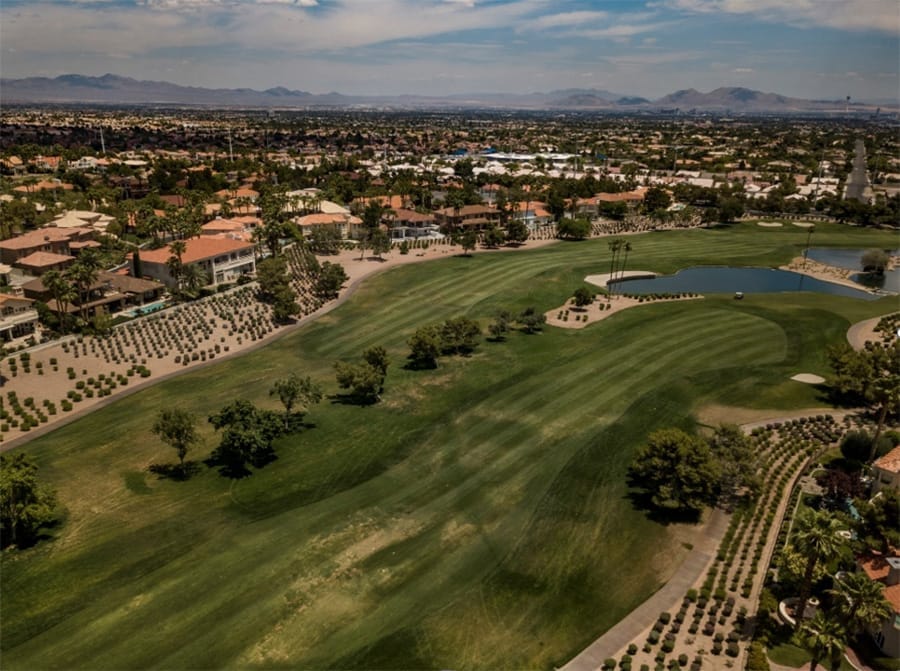 Many of the homes in this area offer some of the most stunning and spectacular vistas. With all that Canyon Gate has to offer, it shouldn't come as a surprise that many of the houses that are up for sale are purchased almost immediately.
Which one of the luxury neighborhoods in Las Vegas will you choose?
We hope our article helped you and your family choose one of the luxury neighborhoods in Las Vegas to call your home. Wherever you decide to settle in Las Vegas, we're absolutely sure you and your family will love it. So wait no more; reach out to Las Vegas's finest luxury real estate brokers and start looking for your new home.