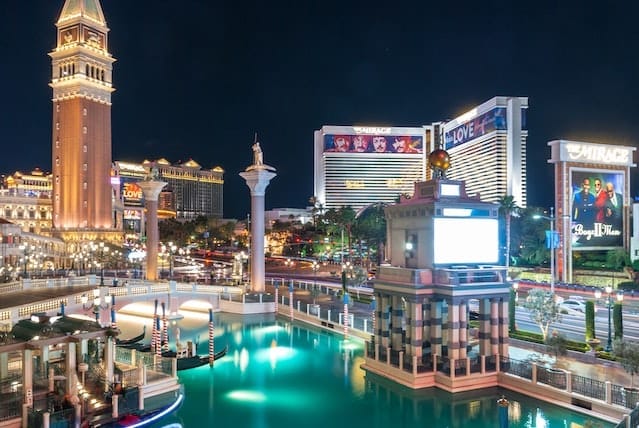 Las Vegas, the iconic city of neon lights, is known for its non-stop entertainment, world-class casinos, and vibrant nightlife. But beyond the glitz and glamour of the Strip, there's another side to Sin City that is rapidly gaining attention: luxury real estate. So, if you're considering investing, you're probably wondering about luxury real estate trends in Las Vegas shaping the city's high-end living experience in 2023. That's why we've reached out to Las Vegas luxury real estate experts, and here's what's hot and what's not when it comes to luxury homes in Las Vegas.
Top Las Vegas Luxury Real Estate Trends in 2023
Amidst the dazzling lights and vibrant energy, Las Vegas has become a sought-after destination for luxury homebuyers from all over the US. The city's real estate market has come a long way, offering a diverse range of high-end properties catering to affluent buyers' refined tastes. So, what are the latest luxury real estate trends in Las Vegas, and what are luxury buyers looking for nowadays? Let's find out!
Modern Masterpieces: The New Wave of Architecture
One of the most significant trends shaping the luxury real estate market in Las Vegas is the emergence of cutting-edge architectural designs. Gone are the days of cookie-cutter mansions; today's high-end homebuyers seek modern masterpieces that showcase innovative styles, sleek lines, and open floor plans.
These contemporary properties often feature floor-to-ceiling windows, allowing for an abundance of natural light and stunning views of the cityscape. Additionally, many of these homes incorporate sustainable and eco-friendly materials, reflecting a growing awareness of environmental responsibility among affluent buyers. In 2023, we're seeing a surge in demand for homes with solar panels, energy-efficient appliances, and other green technologies that reduce the property's carbon footprint.
Smart Homes: The Height of Convenience
Another trend gaining traction in Las Vegas's luxury real estate market is the integration of smart home technology. Buyers are increasingly looking for properties that offer state-of-the-art automation systems, allowing them to control lighting, temperature, security, and entertainment with just a button.
These sophisticated systems provide unparalleled convenience and enhance the overall living experience by creating a personalized, connected home environment. In 2023, we're seeing the rise of advanced AI-driven technologies that learn residents' preferences and habits, offering a truly customized living experience. As a result, smart homes are quickly becoming a must-have feature for luxury properties in Las Vegas.
Plenty of Amenities: Resort-Style Living at Home
When it comes to luxury real estate, it's not just about the property itself – it's also about the lifestyle it offers. That's why resort-style amenities are another hot trend in the Las Vegas luxury market in 2023. High-end homebuyers are seeking properties that provide a lavish, all-inclusive living experience, blurring the lines between home and vacation.
These resort-style properties often feature amenities such as infinity pools, outdoor kitchens, private spas, and fully-equipped fitness centers. Some even offer access to exclusive golf courses, private clubs, and equestrian facilities. In 2023, we're also seeing the rise of wellness-focused amenities, such as meditation rooms, yoga studios, and even on-site nutritionists and personal trainers. In essence, these luxury homes are designed to provide residents with an unmatched level of comfort, convenience, and leisure.
Location, Location, Location: The Rise of Master-Planned Communities
The importance of location in real estate cannot be overstated, and Las Vegas is no exception. One trend that's gaining popularity among luxury homebuyers in 2023 is the desire to live in master-planned communities. These carefully designed neighborhoods offer a harmonious blend of luxury homes, recreational facilities, and top-notch amenities.
Master-planned communities such as Summerlin, The Ridges, and MacDonald Highlands have become prime destinations for affluent buyers. These neighborhoods boast meticulously landscaped surroundings, a strong sense of community, and a plethora of amenities, including parks, walking trails, and high-quality schools.
We're also witnessing a growing interest in communities that prioritize sustainability. With growing global issues, most people are looking for ways to make their lifestyles greener. In fact, the expert team from Zippy Shell Northern Virginia advises that this trend is also noticeable in the moving industry. Considering this, most buyers nowadays want high-end homes with electric vehicle charging stations, community gardens, and dedicated green spaces.
What's Not: The Decline of Traditional Luxury Homes
With the rise of modern architecture, smart homes, resort-style amenities, and master-planned communities, traditional luxury homes are witnessing a decline in demand in 2023. The opulent, ornate designs and sprawling layouts of classic Las Vegas mansions are no longer in vogue among today's discerning homebuyers.
Gone are the days of lavishing Las Vegas mansions, and it's time to learn about new luxury real estate trends.Instead, the focus has shifted toward functionality, sustainability, and seamless indoor and outdoor living spaces integration. As a result, the Las Vegas luxury real estate market is gradually moving away from conventional luxury homes, embracing a new era of sophisticated, contemporary living.
Furthermore, the growing trend of remote work and the need for dedicated home office spaces have also contributed to the decline in demand for traditional luxury homes. Buyers are now prioritizing properties that offer flexible spaces that can be easily adapted to accommodate work-from-home setups, home gyms, or multi-generational living arrangements.
The Bottom Line
The luxury real estate market in Las Vegas is constantly evolving, reflecting the tastes and preferences of its high-end clientele. With modern architecture, smart homes, resort-style amenities, and master-planned communities taking center stage, it's evident that the city's luxury living experience is becoming more refined, sophisticated, and exclusive.
If you're considering investing in Las Vegas luxury real estate in 2023, keep these trends in mind as you search for your dream home. After all, staying ahead of the curve is key to finding a property that meets your needs and offers lasting value in the ever-changing world of luxury real estate. With a keen eye on the market and an understanding of the latest luxury real estate trends in Las Vegas, you'll be well-equipped to make a sound investment in the sparkling city of luxury living. And if you reach out to luxury real estate experts in Las Vegas, you'll make sure you quickly find a home that fulfills all your wants and needs.
Photos used:
https://www.pexels.com/photo/buildings-near-body-of-water-2837909/
https://unsplash.com/photos/emqnSQwQQDo
https://unsplash.com/photos/RKdLlTyjm5g
https://unsplash.com/photos/u_Zcl28p3m4