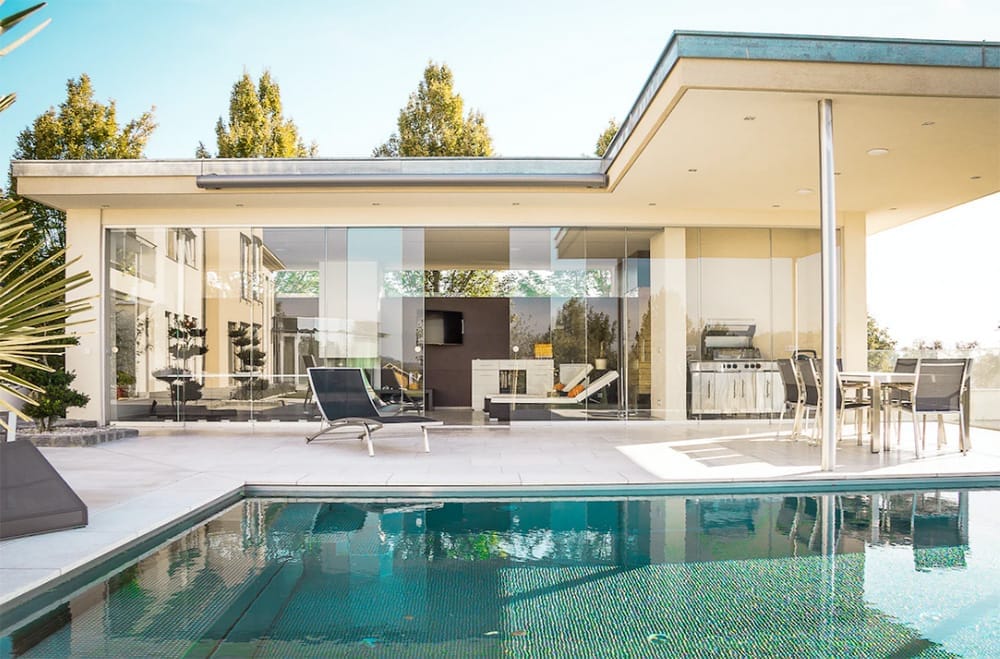 Every year, expert designers like to predict which design trends people will welcome into their luxury homes. And you should be interested as well, especially if you intend to redecorate your Las Vegas luxury home for the new season. Even if a particular trend isn't for you, it's always interesting to see what color palettes, furniture styles, and other décor aspects are popular now. To put it another way, you should explore the upscale interior design trends for 2022. You might find that the coming trends fit perfectly with your ideas. Therefore, without further ado, let us see what was and will be popular in design trends this year.
Color palette trends in upscale interior design
If the choices for the color of the year are any indicator, green is having its moment right now. Green was also declared the top color trend for this year by paint makers, and designers also believe the luscious hue will replace blue as the most popular decorative color. Green constantly reminds us of the outdoors and our need to connect with nature. After the epidemic forced us to relocate many social meetings and activities outside, we're bringing nature's impact back inside.
On the other hand, brown is also a competitor for the title of the color of the year. It is a versatile hue that you can use for almost any theme or style. Any shade of brown is safe to use since it is welcoming, warm, and earthy. However, because pastels are also trending, caramel is the most popular brown shade this season, followed by chocolate.
And speaking of pastels, they are hot, hot, hot. Pastel hues are a terrific way to bring energy to a room without going overboard with bright colors. They do the silent talking in your house, saying little but capturing your attention. They appeal to many, enhancing elegance while breaking the monotony of whites and beige. So, if you want your Las Vegas luxury home to be in the upscale interior design trends of 2022, make sure to use pastels in your home. Also, if you intend to sell a luxury home in Las Vegas, now you know how you should make it look before you put it on the luxury Las Vegas real estate market.
Follow the trends with something old and something new
Instead of buying completely new furniture, people are mixing antiques and vintage pieces with more modern designs, and we couldn't love it more! For one, antique and vintage décor and furnishings are eco-friendly since you are repurposing things. At the same time, they create a beautiful contrast between old and modern. It couldn't be a more appropriate design for a Las Vegas mansion.
However, it's one thing to like the vintage interior design trend, but it's quite another to find the perfect piece for your luxury home. In reality, people bought so many second-hand pieces of furniture last year that it became hard to find any. As a result, if you want to get your hands on some good vintage furniture, you need lots of patience and time to search for it. You should hunt for it in local antique stores, fairs, markets, online, or at auctions. It won't be easy, but it will be worth it.
Home safety is always trending
There is hardly an industry these days that didn't get improved by artificial intelligence, and home security is no exception. Sure, an alarm system might not be among the upscale interior design trends of 2022 that you would think of first. However, safety is always in fashion, especially in million-dollar homes in Las Vegas. Furthermore, the new safety technology is also looking great these days. For instance, video doorbells with face recognition fit perfectly in a modern home. So do the modern CCTV cameras with motion detection, smoke detectors, or smart fingerprint door locks that can blend into the design of your home. Best of all, you can control all of them from an app on your phone.
Therefore, if you want your beautiful home to not only look good, but to be safe, look for reputable professionals when choosing a home security company. They can install the appropriate security system for your house and service you 24 hours a day, 365 days a year. You and your family members will feel safe and protected at all times.
Nature is inspiring the interior design trends of 2022
Most of us need to reconnect with nature after being confined to our dwellings for an extended time. As a result, there is a focus on biophilic designs in many American homes now. People focus on creating calming environments with natural light and plants to have at least a visual connection with nature. Therefore, don't be afraid to bring some greenery into your home. It will match perfectly with the browns and greens in your home and wooden furniture. Some plants that will thrive in your home are Monstera, the snake plant, palms, or the sweetheart plant. Of course, if you want, you can add other species you love or find useful. For instance, you can have lavender and herbs in the kitchen, yucca or rubber tree in the living room, and bamboo or orchids in the bathroom. It's all up to you.
Nordic trends are back in the game
In 2022, the Nordic tradition is "gathering steam" in homes worldwide. A sauna can be a fun and luxury DIY addition to the bathroom, which is the center of well-being in our homes. Bathrooms are the places where we can go to rest and refresh or have a moment of intimacy. Therefore, having a sauna will only increase the comfort of your bathroom and make it feel more like a spa. And if you are concerned about how you will fit a sauna into your bathroom, there is no need to worry. Some companies create customized saunas that suit your exact space. Luxury models can also include remote control, mood lighting, and a built-in audio system. However, to ensure your safety, always get a high-quality model from a reliable provider and choose a competent installer.
Final thoughts
If you are interested in buying, selling, renting, or just redecorating your luxury property in Las Vegas, now you know the upscale interior design trends of 2022 that you should be looking to acquire. These trends can help you achieve a good energy flow by making your house feel more welcoming and calm. You will love your beautiful home even more after you redecorate it!
Images credits:
https://unsplash.com/photos/b_79nOqf95I
https://www.pexels.com/photo/closet-on-parquet-under-chandelier-at-home-6980733/
https://unsplash.com/photos/IJkSskfEqrM